Membership
Joining the MGS Alumnae Association gives you access to the vast network of Old Girls to help you organise class reunions, find old schoolmates, and keep you informed of the latest events.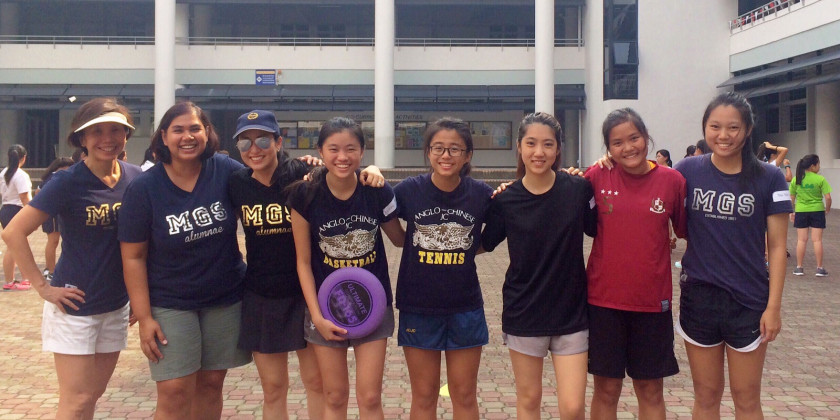 Eligibility Requirements & Fees
Eligibility criteria
To be eligible for membership, applicants must be 16 and above, have attended MGS for a period of not less than four (4) academic years in the primary school or two (2) academic years in the secondary school. If you have any questions regarding the eligibility requirements, please contact us.
Lifetime membership fee categories
A one-time payment of S$500 for applicants above 25 years of age and S$200 for applicants 25 years or younger grants you a lifetime membership. For those 55 years old and above, we will be offering you a special rate of S$55 for the lifetime membership.
Sec 4 Graduates of 2021/P6 Graduates of 2017 will be able to enjoy a special rate of $100 for membership if they sign up from 25 July 2022 to 31 December 2022. Sec 4 Graduands of 2022/P6 Graduates of 2018 will also be able to enjoy this special rate of $100 when they sign up from Jan 1, 2023 until 31 December 2023.
Application processing time
Our application approvals will be done quarterly in February, May, August and November each year. All applications submitted will be reviewed by the next quarter. Kindly allow us 3 months to process your application. In some cases or under extenuating circumstances, the review process may take longer, but not more than 6 months. The Alumnae Committee will contact you on the outcome of your application.
Troubleshooting
When choosing a username, please note that symbols "-" and "_" are not accepted by the system.
If it says your chosen user name is taken, this is because the registration probably took place but the system took time to process it. Please do not choose a different user name and pay twice. If you do, we will have to make refunds less the commission charged to us.
If you are unsure whether the card transaction went through, please contact us. Do not re-submit the form. You can subsequently make a transfer via PayNow (UEN: S61SS0081H) after verification by our administrator. In the Reference field, please type: [Membership and your full name].
Use of the Sports Complex
Identification and Digital ID
MGS Alumnae members using the facilities are to have their digital ID (with photo identification) generated from the online members' portal with them at all times and present it upon request.
If you have not received your username, please contact us.
To retrieve your password, use the reset password link. The link to create your password will be sent to the email that you used when you applied for membership. Contact us if you need to update your email address in our database.
Once you log in to the portal, you can upload your photo and update your profile.
Booking Facilities
The availability of facilities during School-use Hours is subjected to exigencies of use by the school. Bookings may be cancelled by the school due to unforeseen circumstances. For such cases, the school will inform users in advance and arrange for credits or a refund. Chargeable bookings will be required to be made through the school rental form available from the School Estate Office.
For more details, please refer to the Sports Complex Guidelines